A few days ago while searching for a mothersday gift inspiration I stumbled upon a very cute craft tutorial in Tumblr that was too sweet to turn my back to. So i tried it out and I was so thrilled with my version of it that I decided to make a video tutorial showing how you can make Ceramic pots with feet.
The source of my Ceramic pots with feet inspiration was little white whale a blog that is definitely worth a visit, where one can find many Diy projects, craft tutorials, product reviews, home décor and style statements, wonderful freebies and much more!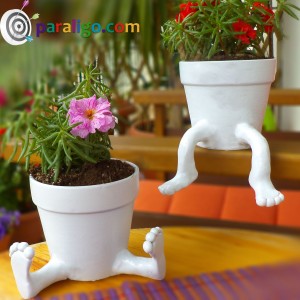 I don't know if gardening is your thing but even if it's not these little fellows are too cute to resist, plus they can make a perfect gift! So here is what you are going to need in order to create your own Ceramic pots with feet.
Tools and materials
White (preferably) polymer clay
Rolling pin
Small round cookie cutter (a bottle cap could do)
Ball point sculpting tool
Two part epoxy glue
White enamel spray paint
A shoe box cover
Tips
If you don't have a shoe box you can bend the legs over the edge of a table or a shelf.
When pressing the legs against the pot to create an adhesion surface make a trace using a pencil so that after you bake the legs you can adhere them at the exact spot.
So get the materials, watch the video and make adorable Ceramic pots with feet!
Enjoy!