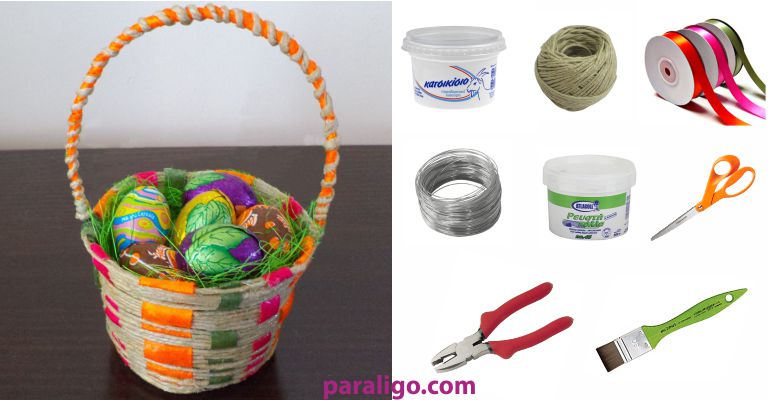 With Easter just a few days ahead, I decided to play a little bit, with twine again and I made something to store those cute little chocolate eggs that I buy every year as treats and by the time someone finally visits, there's nothing left to treat him with, other than wrappings.
So I enjoyed making this little Easter basket very much and If you are in the mood for playing as well, I totally recommend it.

Tools and materials
A plastic yogurt container
Twine
Thin wire
Satin ribbons in three different colors
Modge podge
A brush
Scisors
Pliers
Instructions
Cut the ribbons in 6 pieces (2 of each color) about 30 cm long. Turn the plastic container upside down apply some glue in the center of the bottom and stick the ribbons in a radial pattern.Apply some glue on the perimeter of the container bottom and use twine to form a circle, as perfect as possible.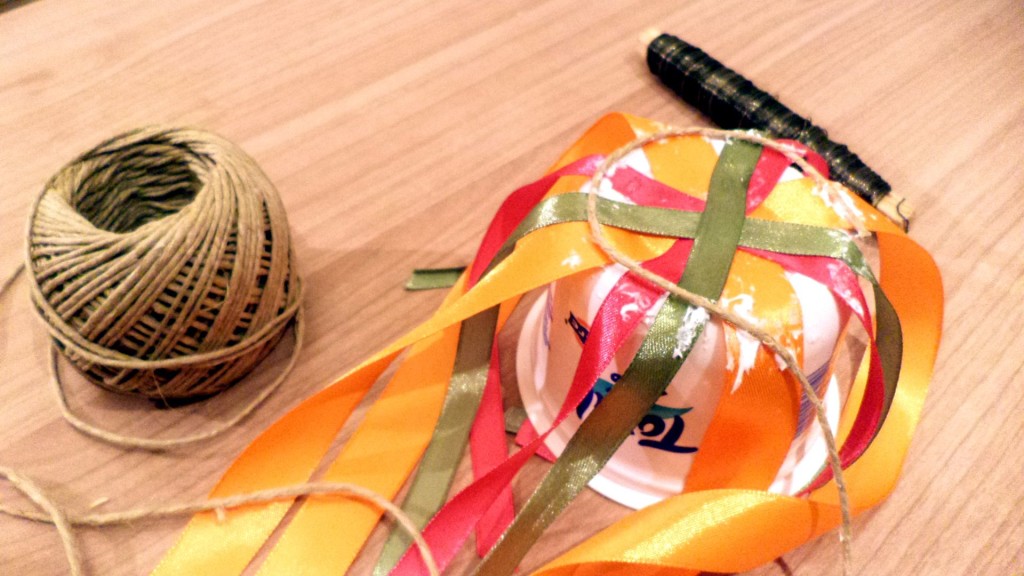 Apply some glue along the ribbons and start turning twine around the container, going above and beneath the ribbons, in turn.Apply glue all over the basket and let it dry for several hours. Remove the plastic container by squeezing it so that it will be detached from twine.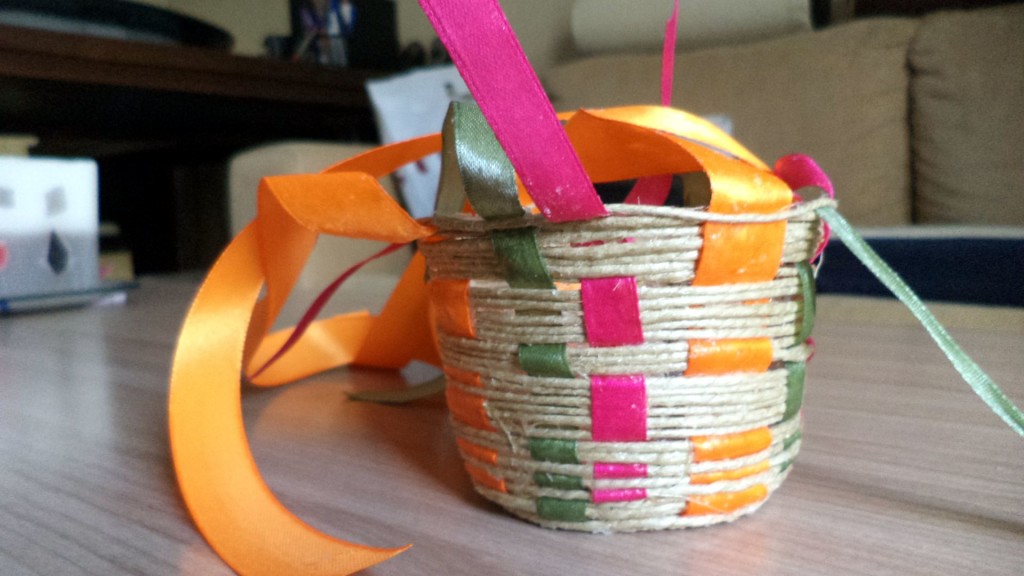 Cut a piece of wire about 25cm long and fold it around a round object so that it will become curved. Pull the wire piece through twine in two diametrically opposite points, on the perimeter of the basket (to think that I sucked on geometry).Fold 2 cms on each side of the wire and twist it to form 2 loops. Tighten with the pliers to make the wire-handle stand alone and stable.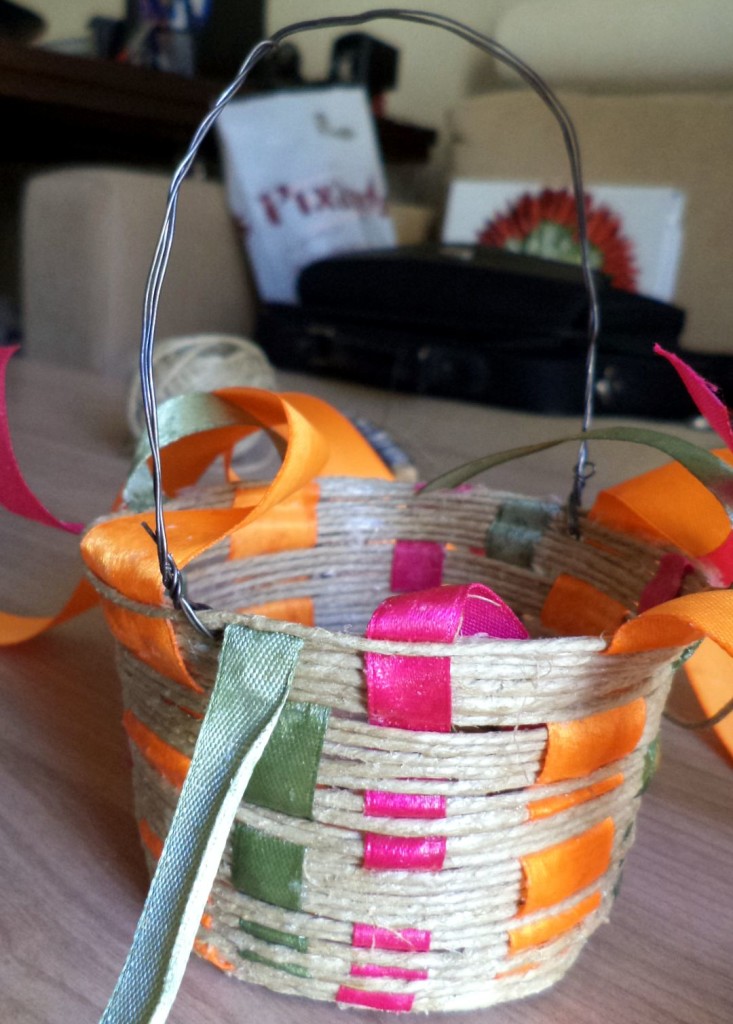 Cut the excess parts of the ribbons leaving 2cms at each one. Apply glue and fold the ribbons so that they will stick on the inside of the basket.Wrap wire with a piece of ribbon, making sure to also cover the parts where wire joins twine and cover it with glue. Turn twine around the handle leaving enough space so that the color of the ribbon beneath, will stand out.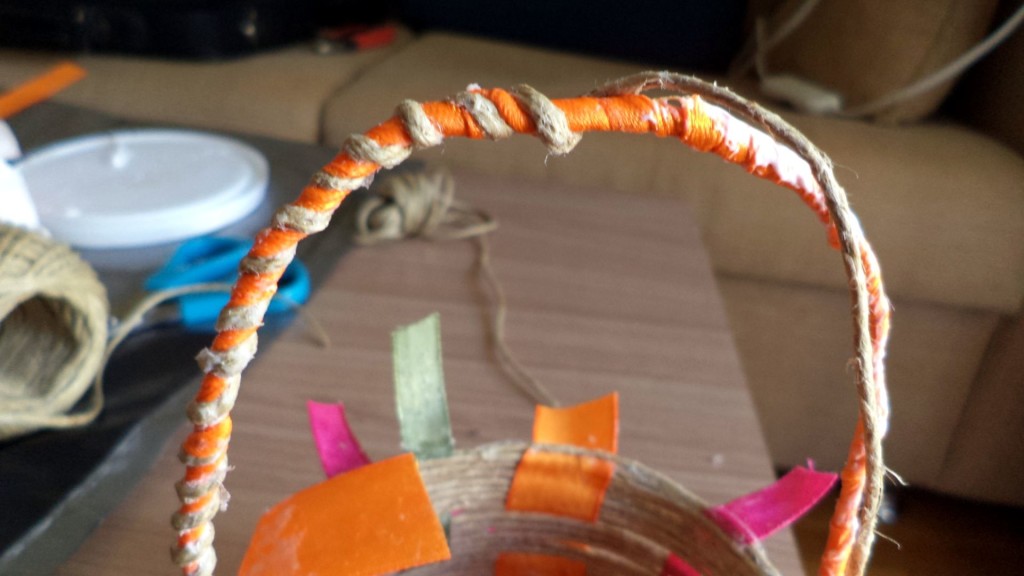 Apply some more glue all over the handle, let it dry for several hours and your Easter basket is ready!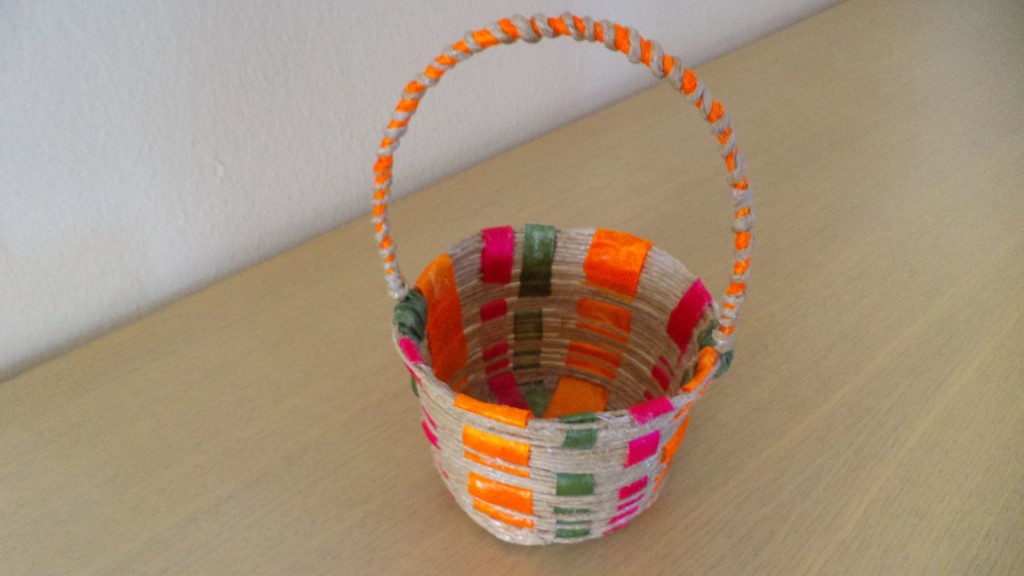 Tips
Instead of a yogurt container, you can use a margarine container, or a soft pot or whatever container you have at your disposal, as long as it's made of flexible plastic, so that It will be easily detached from twine.
Make sure to tighten twine as you go, and to straighten the ribbons every now and then, so that they will be vertical to the twine rings.