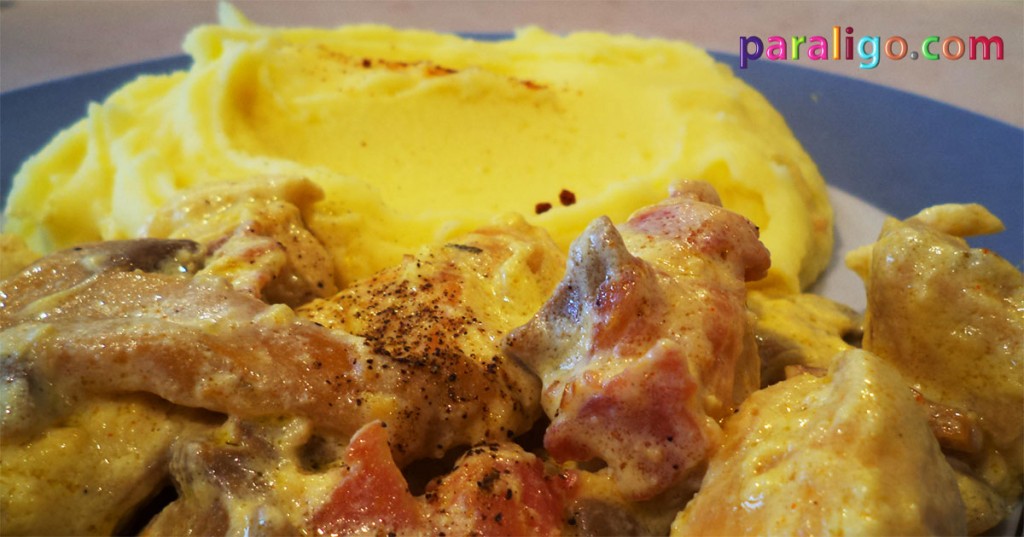 Creamy chicken with bacon, mushrooms and homemade mashed potatoes. Easy, quick, an all weather, all occasions recipe!
Creamy chicken

Ingredients:
1Kg chicken breast chopped into bites
200g mushrooms, roughly chopped
150 gr of smoked bacon roughly chopped
400gr Crème Fraîche
Olive oil
1 clove of garlic
½ glass of white wine
Salt and pepper
Instructions:
Pour a drizzle of olive oil in a deep frying pan, fry the garlic clove until brown and then remove it.
Add the bacon, the chicken and the mushrooms in the olive oil, let them fry until they go brown on both sides and then add the wine.
Add some salt and the Crème Fraîche and let them cook in low temperature, with the lid on, for about 25-30 minutes until the sauce is thick.
Remove from the stove, season with pepper and serve with mashed potatoes.
Mashed potatoes
Ingredients:
1/2 kg potatoes
1/2 cup of hot milk
2-3 tablespoons of butter
1 teaspoon of salt
Grated nutmeg
Instructions:
Bring a pot of water to a boil, add the unpeeled potatoes and cook for, about 40 minutes.
Peel the potatoes and use a potato masher or electric beater to mash them while hot.
Put the mashed potatoes in a pot over low heat and stir for a few minutes until they are completely dry.
Add the butter and stir well until absorbed. Remove from stove, add the milk, the salt and some nutmeg and stir well until its smooth and soft.