Polymer clay is one of my most beloved craft materials and making Polymer clay charms is something I really enjoy doing. That's why I decided to dedicate the last Post of the year 2015 to Polymer clay charms – pomegranates.
Pomegranates hold strong symbolic meanings that derive from the ancient times and are considered to bring luck.  From the Ancient Egypt, Greece, Rome, Persia, Israel and China to modern Armenia, Azerbaijan and India pomegranates are associated with Fruitfulness, prosperity and good fortune.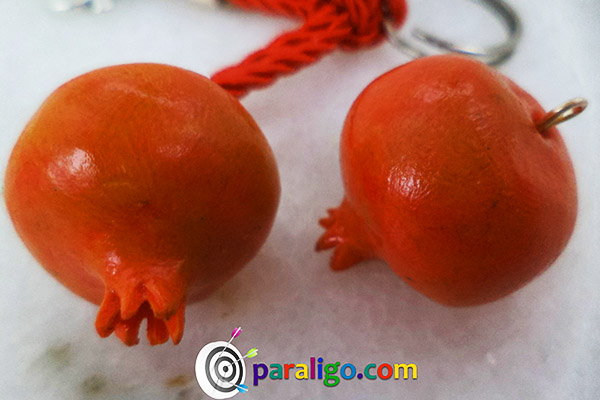 In this video tutorial you can find out how to make Miniature Pomegranate Polymer clay charms in less than 2 minutes. They do not demand any great skills, they are really fun to make, and they can make very cute gifts.
Materials:
Red polymer clay
Acrylic color (Ochre)
Acrylic gloss varnish
Eyepins
Tools:
Scissors
Round Nose Pliers
Brush
Toothpick
Tips:
Bake the Polymer clay charms according to the instructions on the Polymer clay packaging
Apply 2-3 coats of acrylic paint letting each one dry before applying the next one
Apply varnish when the paint is well dried
Paraligo wishes to thank you all for your interest and your support and may your New Year be filled with happiness, love, creativity, good luck and prosperity!
Happy 2016!!!