Did you like play dough when you were little? I used to love it. To be honest I still do. And I realized that as soon as I decided to try a polymer clay craft. I can't remember the last time I had so much fun. And to share this fun with you I made this Polymer clay tutorial where you can find out how to make Polymer clay Ice cream cone earrings.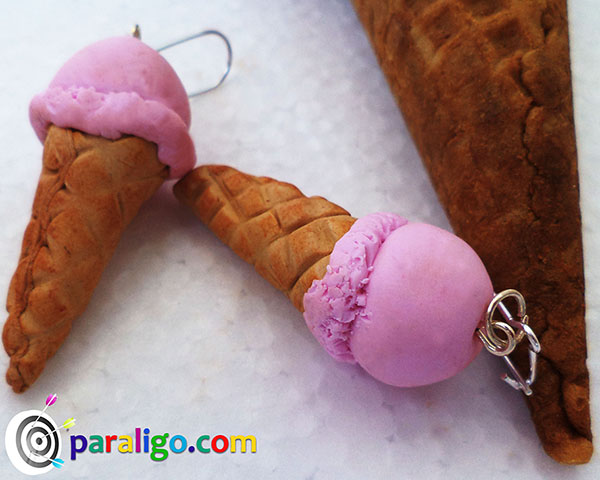 If you don't have the slightest idea about Polymer clay, pretty much like myself, this Polymer clay tutorial is perfect for you.
It doesn't demand any special tools and though I suggest some below, you can make these cute Ice cream cone earrings using things you can find in your kitchen.
All you really need to buy is soft pastel colors (assuming you don't have any) and polymer clay in two different shades. A Beige one for the cone and a second one for the scoop flavor of your choice.
I chose a light pink polymer clay to make a strawberry ice cream scoop but if you are more of a chocolate type of person you can use a wonderful brown.
Note that the right technique involves baking polymer craft parts separately and joining them together when cool, using epoxy glue. I tried joining them by pressure and baking them in one piece and it worked just as fine so far.
I also chose not to use polymer clay varnish because after a few tests I decided that my ice cream cones looked more natural without gloss. This doesn't mean that you have to do the shame just make sure to put it in your materials list cause I didn't include it in mine bellow.
Finally keep in mind that the pin eye might need to be attached with glue (after baking and cooling) since it tends to come out.
Before your start make sure to carefully read the Polymer clay handling and baking instructions on the package or enclosed leaflet!
Materials
Beige polymer clay
Baby pink polymer clay
Soft pastels (Yellow Ochre, Light Brown, Deep Brown)
Earring making material (2 jamprings, 2 eyepins, 2 earring hooks)
Tools
Polymer clay blade (a knife could do)
Dotting sculpting tool (a tooth pick could also do)
Small round cookie cutter (a bottle cap could do)
Rolling pin
Toothpick
Brushes
Round Nose Pliers
 If you don't wear earrings you can make a cute Ice cream cone charm and turn it into a pendant, or a key ring or just add it to your miniature collection.  Between you and me. You are going to love it so much that I don't thing there is a chance you will stop at one.
So get the material, watch this Polymer clay tutorial and have lot's of fun!